GST Online Accounting Software Mobile App for Small Business from EZTax.in is a complete, Comprehensive Goods and Service Tax ready Accounting Mobile App (Application) to help you prepare GST Compliant Billing, Maintaining Books, preparing GST Returns, manage your expenses, Profit and Loss, Balance Sheet, Analytics that let you know how well your business is doing real-time, online, all on Mobile while you are on the Road.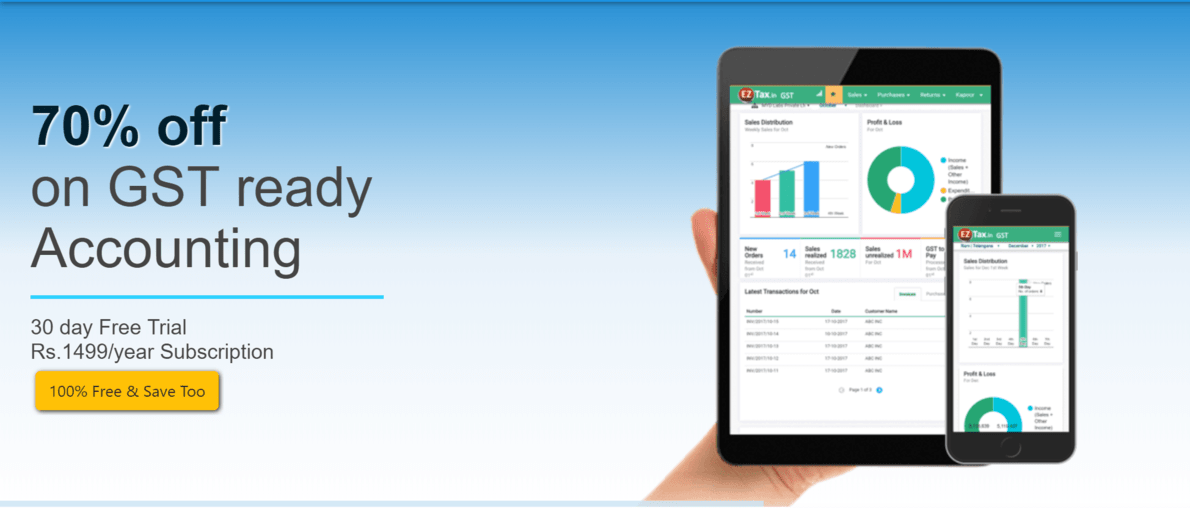 EZTax.in GST Accounting App can be used to do all the things you would do on a PC browser but with greater convenience. With single subscription, you can use both on PC browser and on Android App. Download EZTax.in GST Accounting Android App now
Dashboard Business Insights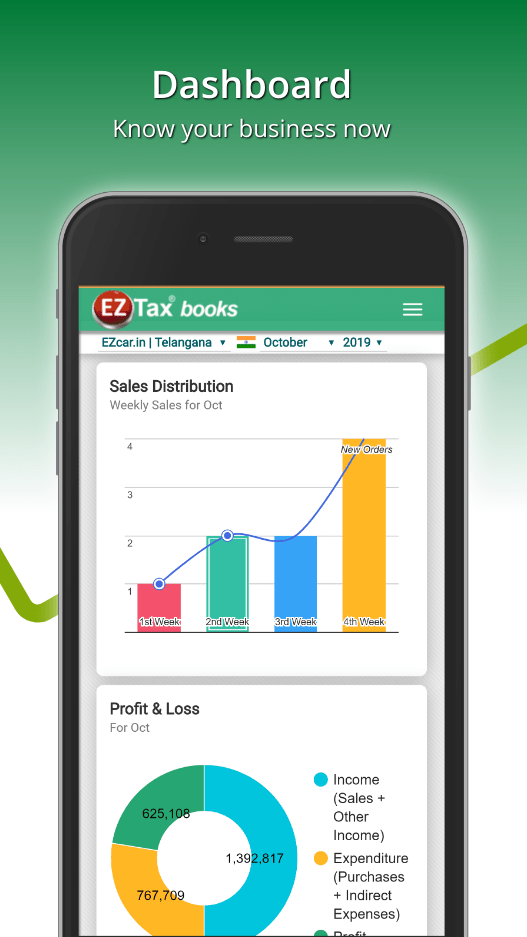 EZtax.in GST Accounting Dashboard
GST Invoicing – Faster and effortless
Complete provisions made for Estimates, Billing, Invoicing, Delivery Challans, Credit, Debit notes, Drafts, Templates and their conversions from one to another. Create beautiful GST Tax Compliant Invoices easily with your business logo, references such as transport option, PO references, terms & conditions, bank account information, Discount, Cess, extended product descriptions, due dates, reverse charge and place of supply provisions as per Indian GST Act.
more on Invoicing...
Greater care taken to have single invoice capable to handle both exclusive, inclusive products, also possible to combine both products and services. Single invoice to have 1000's of line items, and an auto delivery of the invoice saves time and money in comparison with the print and post.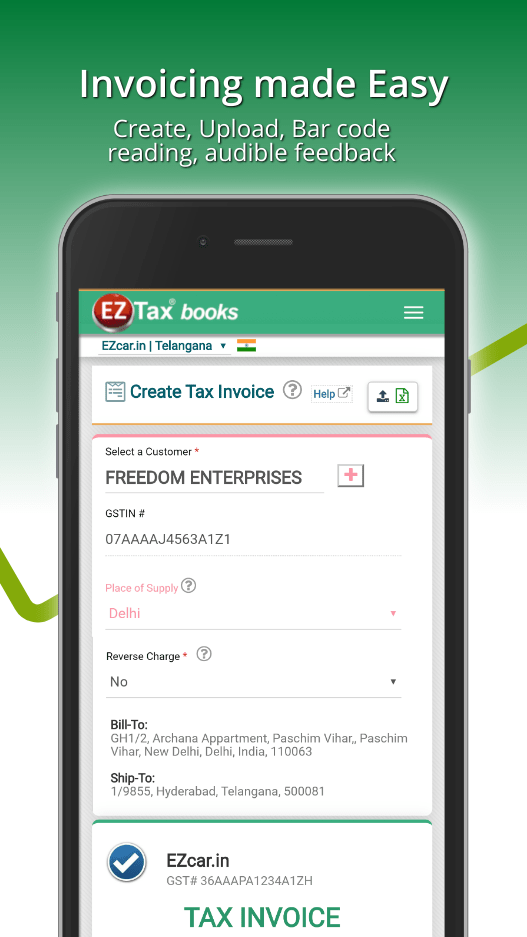 EZTax.in GST Accounting Tax Invoice on Mobile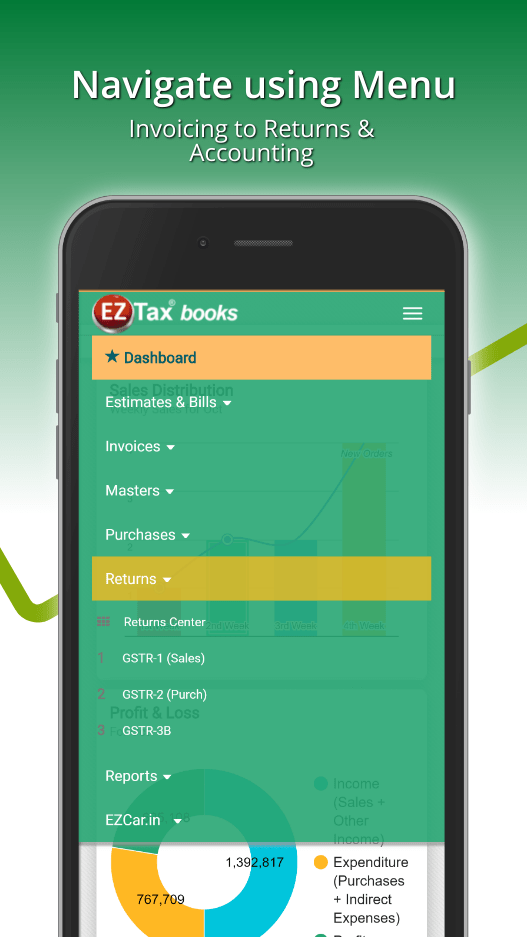 EZTax.in GST Accounting Menu Options
Printing – multiple options
Multiple formats were given to make sure you can print your invoices in appropriate paper, formats. A4, 3.125-inch POS format, along with portrait, landscape provisions.
Expenses, Purchases, Vouchers
Creating, managing Expenses, purchases, vouchers made easy. System will automatically, takes care of how a voucher entry to be treated to apply against P&L and Balance Sheet. No need to define Chart of Accounts (COA). Ledger groups can be created at Product or Service level that will auto apply to P&L, and Balance sheet.
GST Returns
GSTR-3B, GSTR-1, GSTR-2 returns are just a click away to review on the screen or to download JSON file to upload at government of India's GSTN site, gst.gov.in Additional provision made upload paper-based invoices into the system before filing thru an excel interface. GSTR-2A reconciliation made easy with heuristics to identify the real difference between purchases and supplier invoices.
360 Views for Customers, Suppliers, Products
Make right decisions to get paid faster with Single click 360-degree view of your customer, supplier, product to know complete details including transactions, receivable, payable through visual charts.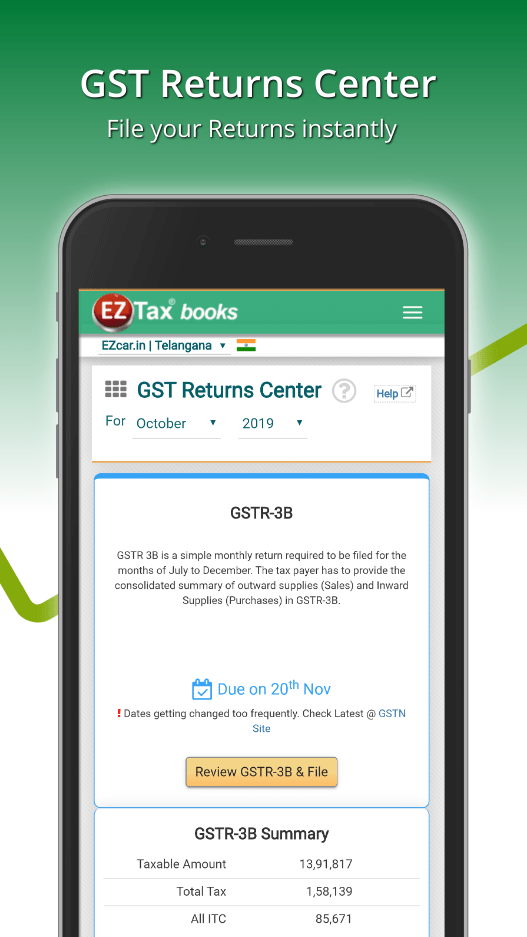 EZTax.in GST Accounting - Returns Center on Mobile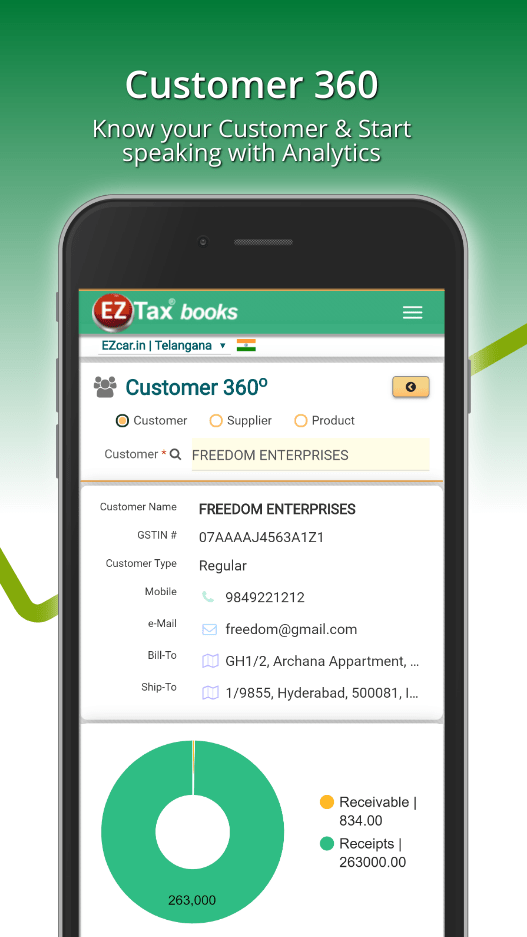 EZTax.in GST Accounting - Customer 360
Ageing Reports
With Artificial Intelligence (AI) enablement, solution alerts you when to, how to respond to your customer or supplier on your ageing of receivables, payables.
Lots of other GST Accounting features
Multiple users to login and work under single licensing, Sales Analytics, Customized Views for Regular, Composition, Month Close Process, Multi-Channel GST returns, Excellent User Experience, Easy to understand language, Artificial Intelligence, above all, Count on our Outstanding Client Service. Possibly why SiliconIndia Magazine identified EZTax.in GST Accounting Software as the best among Online Accounting Software.
Start Today
If you already registered Online at https://eztax.in/gst, just DOWNLOAD and start using the app on Android smart phones today. It's FREE and takes few secs as the app is just 1.3MB, which is the smallest possible app size.
Otherwise, just download the GST App and REGISTER now to get 7 day FREE Trial, get 50% OFF on 1st Year, and book your training session to get to know from EZTax.in
About MYD Labs Private Limited
Makers of EZTax.in, Comprehensive Self Service Tax Filing solution provider in India, covering Income Tax, TDS, Virtual Accounting Services, Registrations @ EZTax.in Home Page