Self Service Online Income Tax Filing
With EZTax self service tax efiling, you no longer need to deal with another professional in filing your taxes. EZTax is the 1st and only software available pan India to provide step – by – step guidance through EZHelp in making your filing an experience.
Whether it is a deduction and/or exemption, look no further in getting the advice you need on the screen. You no longer need to search the blogs to get to know the limits, or tax know how. Yet, it's FREE.
Key features include
EZ Help | Express Filing | Highest Security Standards | Auto read Form-16, Form26AS | Tax Optimizer | Creative Audit | Secure File Manager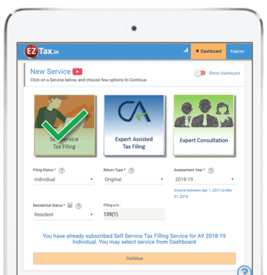 Client Ratings
An aggregate rating of 4.9 out of 5 user rating, based on
29,723
user ratings
Trusted, Secured, Accurate, with Privacy. Call us, Chat with us, or drop an email to us Today to help you.
How to start Self Service Income Tax Filing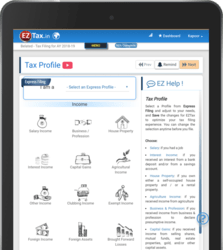 Express Filing
Introducing Express filing, a unique feature in filing your taxes where the tax engine will ask the relevant questions based on your profile, whether you are a salaried employee, trader, etc. It's that EZ (easy)!
Select your profile, EZTax will refine your questionnaires for you.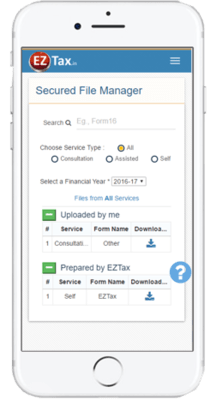 Secure File Manager
No longer needed to search your tax documents for your Foreign Visa and/or for a home loan application. Tax files are available 24X7 with EZTax.
Upload your tax documents all @ EZTax Secure File manager, to retrieve anytime you want Online. EZTax keeps all the data in Indian Data Center, unlike other foreign companies.
Your information and documents are protected with highest security standards in the industry using 256 bit encryption.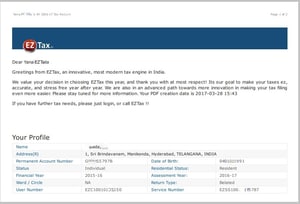 Fastest e-File
We are by far the fastest e-Filer in the market today in India. Once prepared, takes just a few seconds to upload your return! 2016-17 and 2017-18 questionnaires are available now for you to use!
Once Filed, you can download your customized ITR Report in PDF format along with email communication with reminders.